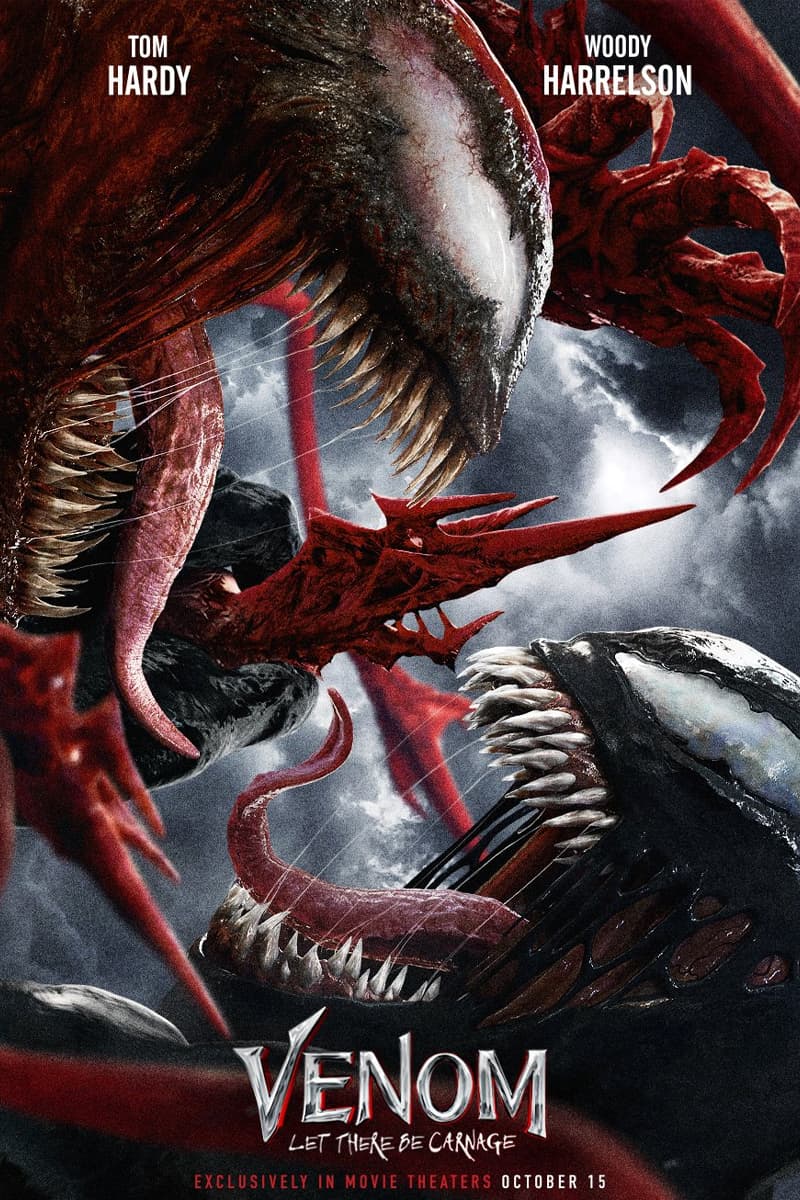 "Venom: Let There Be Carnage" Film Review
Rating: 5/5
By: Nathaniel Simpson
Eddie Brock (Tom Hardy) and Venom are back in their second solo outing, "Venom: Let There Be Carnage". Following the events of the first film, Eddie and Venom are trying to become accustomed to one another's life styles, with Eddie trying to live a quiet life and Venom wanting to bite the heads off of everyone he meets. However, they are threatened by murderous inmate Cletus Kasady (Woody Harrelson), who would become infected with the terrifying symbiote known as Carnage.
The film focuses heavily on the interactions between Eddie and Venom (who is also voiced by Hardy), which is one of the best parts of the entire movie. Hardy does an amazing job at making playful and fun banter between the human and symbiote, which often leads to them arguing like an old married couple.

Venom really tries to make a name for himself, without having to rely on Eddie or his body as a host. The middle part of the film focuses on Venom transferring from body to body, tying to find who he really is. It provides some of the best scenes in the picture. Consider the scene, for example, where Venom is "coming out of the closet" and goes to a party, surrounded by hundreds of humans dressed up in costumes. They believe Venom is just a costume, which makes him feel wanted in the world. The entire sequence is hilarious, and definitely something you wouldn't expect in a film like this.

Harrelson is definitely terrifying, both as Kasady and Carnage. He has that cold, dead look in his eye that is sure to shake you to your core, while also building tons of suspense for when his alter ego comes out to play.

The graphics of both the symbiotes are incredible, especially during the final battle scene in the Cathedral. The filmmakers do an excellent job of making it look very life-like, and mixing the animation of the monsters with the actual acting done by Hardy and Harrelson. It also works really well with the beauty of the architect of the Cathedral. For example, the shot where Carnage is suspended in air in front of a stained glass mural is absolutely breathtaking.

Overall, the movie does a really good job of keeping it mostly upbeat and fresh, with surprisingly a lot of humor sprinkled throughout. The chemistry between the two main protagonists is a lot of fun, and it serves as a good counter for the conflict between the protagonist and antagonist of the film. It's definitely a joy to watch, and I'm excited to see where the story for Venom and Eddie heads next.

P.S. Make sure you catch the mid-credits scene. Believe me, you don't want to miss it.