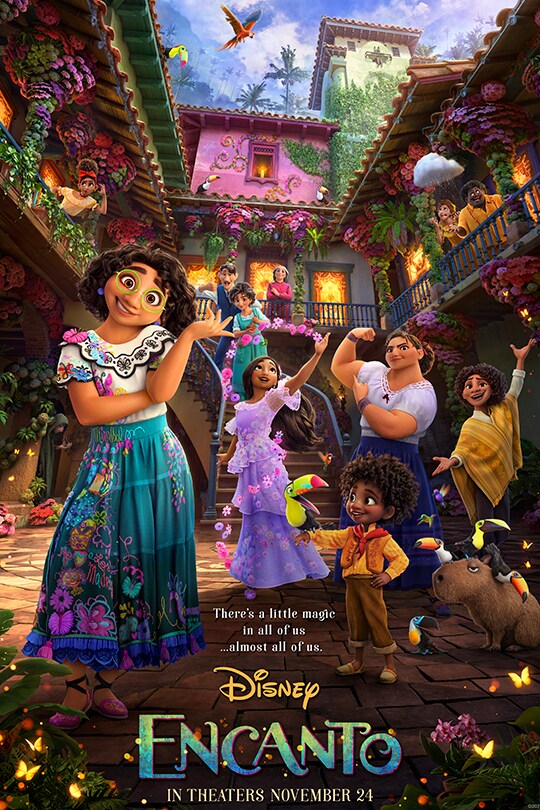 "Encanto" Film Review
Rating: 5/5
By: Nathaniel Simpson
"Encanto", Disney's newest animated film, has a very unique plot. The movie revolves around a miracle that was given to a woman named Alma (María Cecilia Botero), who was forced out of her home with her triplets. The miracle comes to her in the form of an everlasting candle, whose flame will never go out. From there, it sparked a beautiful house that comes to life, as well as a town that grows with every generation. The candle also grants powers to the descendants of Alma, with each of the new kids' powers being very unique. However, when one of her granddaughters, Mirabel (Stephanie Beatriz) is unable to get her power, she is led on a wild journey in this cute and hilarious animated film.
This movie has a lot of characters to introduce in its hour and a half runtime, and I think they do an amazing job at this. Unlike films like Marvel's "Eternals", who had a hard time introducing all of its characters in an almost three hour movie, this movie is able to give the perfect amount of time to each one of its characters, and they do a great job of making certain scenes their own.
The animation is also very beautiful, especially the songs that are performed by the numerous characters. One standout for me was the scene that featured the song, "We Don't Talk About Bruno". The animation is done very well, and for a second, you forget you're watching an animated film. The cinematography throughout the whole number was very well done, and adds a different tone to the film that Disney has yet to explore.
At the same time, the songs in this film are very well written and performed. Written by master songwriter Lin-Manuel Miranda, he combines multiple genres of music in his songs. Some songs can feature rock that goes to rap, then back to rock. It reminds me very much of his Broadway play, "Hamilton", which is always a delight to see in a Disney film. He also did the music for Disney's film "Moana", but I think this movie shows off more of his personality and artistic creativity.

Throughout the movie, it packs a very strong emotional punch, as well as giving off some of the best jokes and gags in a Disney film. Without a doubt, the best scene in the entire film is when Mirabel meets her uncle, Bruno (John Leguizamo). The entire scene is just so hilarious and perfectly done, which then shifts into an emotional tale behind Bruno's past. I would go as far as to say Bruno is one of the funniest characters in recent Disney films; he reminds me of Kronk from "The Emperor's New Groove".
Disney releases very good animated films, but I think their best movies are the very comedic ones. This film is hilarious, but has a lot of heart as well. It lets the viewer really escape from reality for a while and immerse themselves in this magical, fun world.