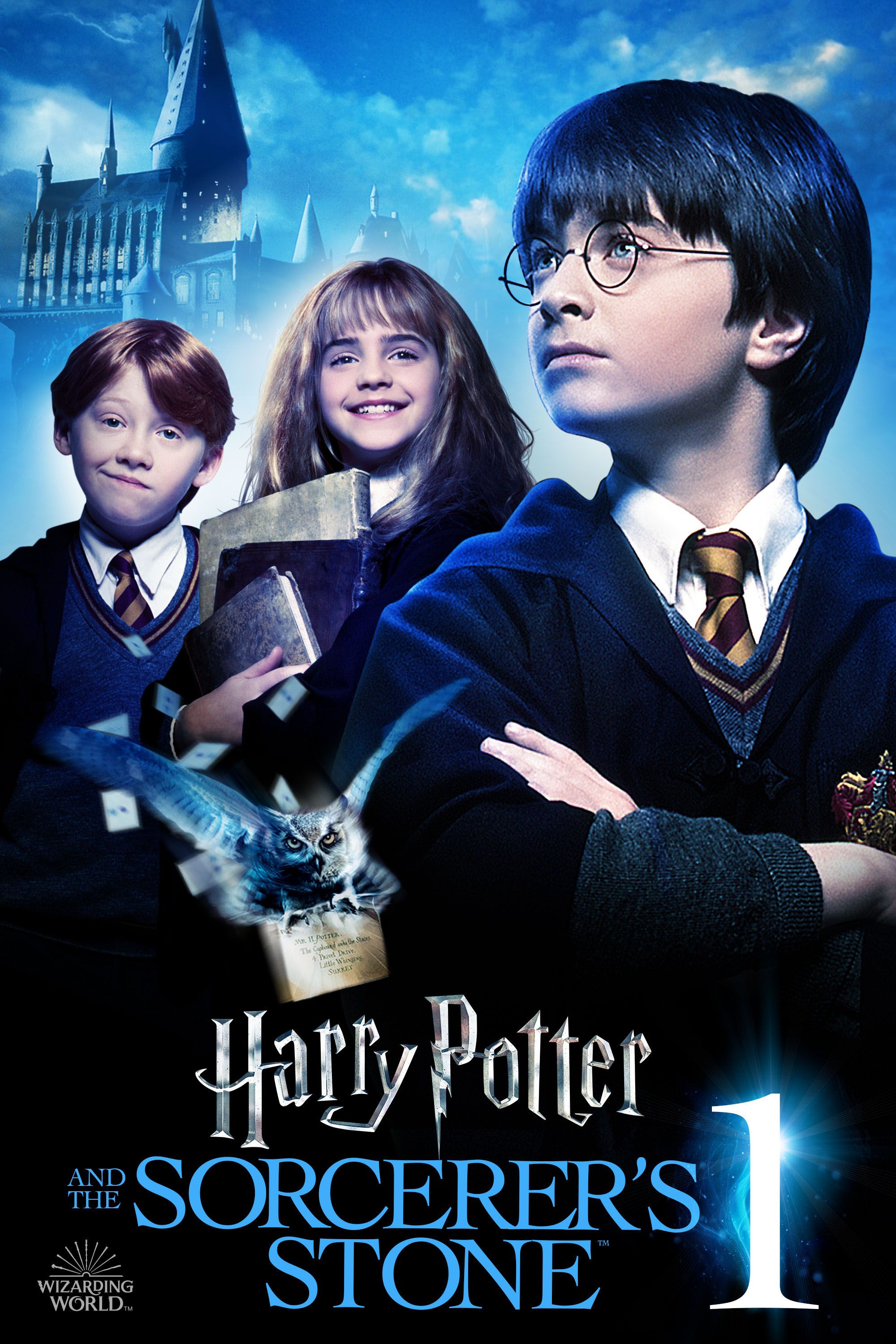 "Harry Potter and the Sorcerer's Stone" Film Review
Rating: 5/5
By: Nathaniel Simpson
I don't think J.K. Rowling knew that "Harry Potter" would be so successful when she first started writing it. Just trying to make a living, Rowling sat down and started writing a novel about a young boy who discovers he is a wizard, as well as being whisked off to Hogwarts School of Witchcraft and Wizardry. It became a worldwide phenomenon, which then sparked interest at Warner Bros. In 2001, WB produced "Harry Potter and the Sorcerer's Stone", which then kicked off one of the most popular film franchises of all time.
The movie revolves around Harry Potter (Daniel Radcliffe), who is an 11 year old boy who lives with his nasty Uncle Vernon (Richard Griffiths) and Aunt Petunia (Fiona Shaw). When Harry starts getting mysterious letters from a place called Hogwarts, he discovers the truth about his deceased parents - they were wizards. And not only any ordinary wizards, but they were killed by the evil Lord Voldemort, and Harry was the only one to ever survive the killing curse.
With his newfound popularity, he attends Hogwarts, where he befriends the bold and brilliant Hermione Granger (Emma Watson) and the clumsy but lovable goofball, Ron Weasley (Rupert Grint). Together, the trio navigate all of their classes and learn to harness their powers, as well as investigating what's lurking behind Hogwarts' walls.

The movie, as a whole, feels so magical. Director Chris Columbus is able to capture the magic of the book series in this film, incorporating almost everything that makes the books so special and fun. I think they cast the perfect kids to play our three main protagonists, and they all have wonderful chemistry together. From looking at behind the scenes footage and my readings about the making of this movie, all of these actors took the roles to heart, which is evident on the screen.

The movie runs two hours and thirty-two minutes, yet it never feels slow or dull. This is very impressive for a family film as they are able to hold the attention of younger viewers very well. The plot moves at perhaps the perfect speed, and we are able to spend a lot of time with our characters. We are also able to explore various supporting characters as well, including Severus Snape (Alan Rickman), Albus Dumbledore (Richard Harris), and the lovable Hagrid (Robbie Coltrane).
For 2001, the editing and special effects are also very impressive. Consider the scene where Harry and Hagrid enter Diagon Alley for the first time. Hagrid uses his umbrella (which serves as his magic wand) to tap on a brick wall, causing all of the bricks to move and shift, granting our two characters access to Diagon Alley, where the students purchase most of their materials for school. The special effects used for this scene possibly still hold up today, and is such a beautifully shot scene. There are numerous scenes in this film like this one that really help capture the magic and mystery of the entire plot.
Overall, I think this film is a perfect set-up for the rest of the film franchise. They are able to excellently establish our characters and setting, making the viewers want more as the credits roll. There is a reason this film series is one of the most successful of all time, and it's very evident in this first film.