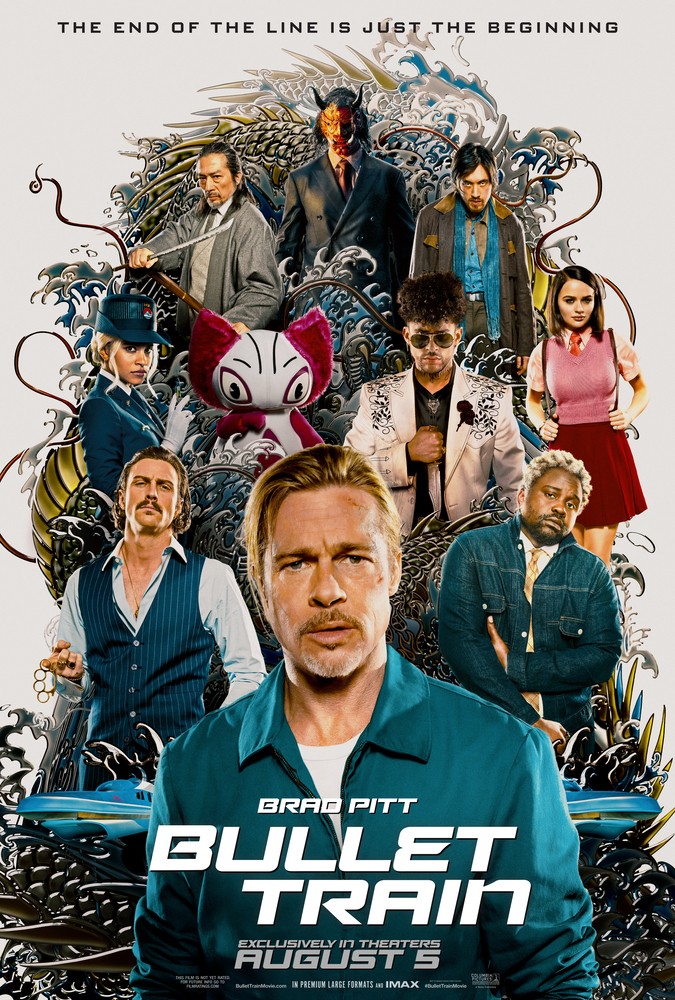 "Bullet Train" Film Review
Rating: 5/5
By: Nathaniel Simpson
Quentin Tarantino is known for his conversational-style of filmmaking. Guy Ritchie is known for his dark British humor. Both are known for their graphic, over-the-top violence, and it seems like director David Leitch took all of those great aspects from the directors that come before him and put them in Brad Pitt's newest action film, "Bullet Train". With a plot that is mostly on a bullet train speeding through Japan, Leitch directs these talented actors in a fun and hilarious movie that is definitely one of the most enjoyable films this year.

Pitt stars as Ladybug, who is an unlucky assassin that took an absence to focus on himself. Now in a better state of mind and more sure of himself, he decides to take a job that is on a bullet train speeding through Japan. He must intercept a briefcase full of cash, which is owned by a feared assassin named The White Death (Michael Shannon). However, what he doesn't know is that the train is packed with other assassins that are trying to get the briefcase as well.

The other assassins include brothers Tangerine (Aaron Taylor-Johnson) and Lemon (Brian Tyree Henry), who are protecting the case and the White Death's son (Logan Lerman), the Wolf (Bad Bunny), who is seeking revenge as well, the Hornet (Zazie Beetz), and the Prince (Joey King), who has a mysterious personal vendetta against the White Death. At the same time, Kimura (Andrew Koji), who is a father whose son was harmed by the Prince, is on the train to get revenge on his son's assassin.

This movie, like the bullet train the characters are on, move at a breakneck pace. The movie wastes no time jumping right into the plot, and it is energetic and tons of fun from start to finish. It doesn't slow down or loses steam, which is always a joy to see out of a movie like this. At the same time, the movie never gets confusing or complicated either. It keeps the viewer on the edge of their seats and engaged until they find out the real reasoning behind all the assassins at the end of the film.

The acting from all of these great actors is spot-on and so much fun as well. Pitt plays a much different character than he usually does. He plays a lot of macho men who girls swoon over, but this film takes that macho man attitude and combine it with a hilarious and insecure personality. I have noticed that Pitt has started to play these characters a lot more in the latter half of his career, with fun characters like Cliff Booth in Tarantino's "Once Upon a Time in Hollywood" and Jack Trainer in the Sandra Bullock-led "The Lost City". He definitely is the best character in this movie, and just a lot of fun to watch.
Taylor-Johnson and Tyree Henry absolutely steal the show in this movie. All of the screen time is balanced out between the characters, but these two characters are amazing so much fun to watch. They use a lot of that British humor that is seen in Ritchie's films, and just add their own flare to it. Consider the plot line on how Lemon is obsessed with Thomas the Tank Engine, and randomly puts stickers on people that he believes matches that character from the kid's television show. It's just so random and funny that it catches the viewer off guard and gives them a good time in the cinema.
One of my favorite scenes in this film is when Lemon and Tangerine argue about how many people they killed, causing a flashback scene that is reminiscent of the humor and action in "Deadpool". Since Leitch directed the second film in the Deadpool series, he knows how to perfectly capture the essence of this scene, as well as the action and humor beautifully.

The action is beautifully captured and choreographed throughout the entire movie. Sure, some of it may seem very over-the-top and crazy, but that's just what makes this film so much fun and so exciting. Every single action sequence is able to perfectly add in the humor and flair that makes this film so unique and fun, and I love every single thing about it.

Honestly, I love every single thing about this film. It's so fun and fresh and over-the-top that it kept a smile on my face throughout the entire movie. This was one of my most anticipated movie of the year, and I'm very happy that it was able to live up to the hype, as well as exceeding my expectations and wants for this film.