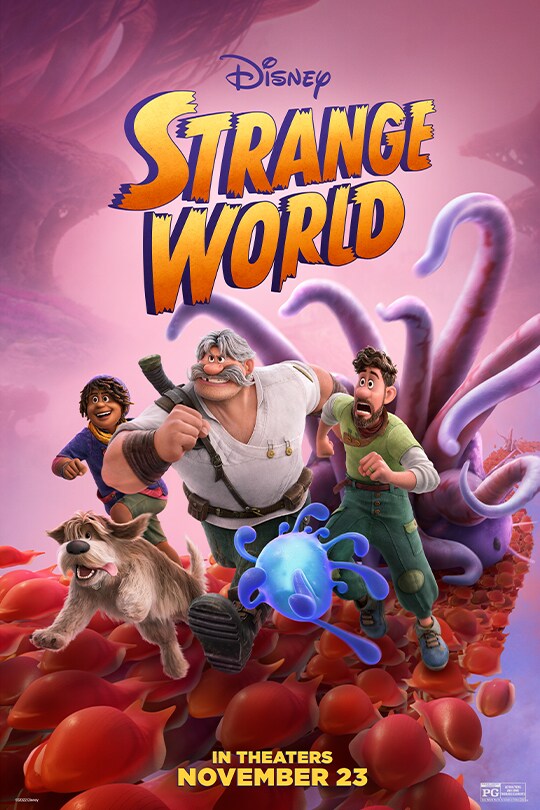 "Strange World" Film Review
Rating: 4/5
By: Nathaniel Simpson
"Strange World" has practically all of the elements we've seen before from a Disney film. The adventurous main characters, the journey towards something greater than all of them, the rekindling of a troubled relationship between two family members, etc. Yet, in Disney's 61st animated film, they are able to make it work and deliver a fresh new story that will keep the audience engaged in the fun adventure that is playing out on the screen.

The movie opens on the story of Jaeger Clade (Dennis Quaid), who is one of the world's most famous adventurers. He has trekked through numerous dangerous circumstances, and won't let anything stop him from reaching his dream of seeing what is beyond the mountains that surround their little town. When he becomes a father, he starts to take his son, who he named Searcher (Jake Gyllenhaal), on all of his adventures with him. However, Searcher isn't like his dad; he would rather surround his life with science and farming than dangerous quests and perilous journeys. Because of this, Jaeger decides to leave his clan and go out on his own to find what is beyond the mountains.
We flash forward twenty-five years, and no one has heard from Jaeger since he has left. They presume he is dead, leaving Searcher as the sole person to continue on the Clade legacy. Instead of becoming an adventurer like his father though, he discovers the plant they call Pando, which gives off green energy and is good for their environment. Using the newfound plant, he decides to completely transform their little town of Avalonia, and practically saves everyone in the town with the new green resource. He has become a local celebrity of sorts, living on a farm at the edge of town with his wife, Meridian (Gabrielle Union), and their son, Ethan (Jaboukie Young-White), who is having trouble talking to his crush, Diazo.

When one of Jaeger's old partners, Callisto Mal (Lucy Liu) comes to inform Searcher that Pando is actually destroying their world, him and his family go on a mission to stop the plant and find out the real reason it is hurting their environment. With a long list of twist and turns throughout their adventure, the family comes to realize that not only is their world precious and important, but their role in their family is just as important.

At times, like you could probably guess from reading the synopsis, this film feels like Pixar's "Onward" in a way. The lead characters from both films have daddy issues, which are then resolved through a perilous quest they must go on. So, in terms of originality, this movie fails to hit that mark. However, it is very enjoyable nonetheless. The characters are beautifully created and unique, and each are able to have their own set of problems and quirks that are unique to that one person. For example, Ethan is having to deal with trying to talk to his crush, which isn't made easier by his father's nagging ways to try and help his son. Then, we have Searcher's problems with his dad, which are addressed throughout the entire plot of the movie. This movie is able to feature multiple complex-layered plot lines that are perfectly able to co-exist amongst one another.
I think all of the actors do a pretty good job of making each character unique, and performers like Gyllenhaal and Quaid are always a lot of fun to watch onscreen. I also really liked the performance given by Young-White, and I think he has a very bright future ahead of him in the film business. Are they anything to write home about? No, not really. But, for just a simple and easy-to-watch Disney film, they are able to bring a good quality performance to the roles.

One thing I would mention about this film is that they deal with a lot of real-world issues, such as climate change and the exclusion of the LGBTQ+ community. The whole movie deals with how us as humans should protect our planet, and how it is ultimately dying out because of us. Many have stated their hatred for this movie, calling it "too woke" for Disney, but I don't see the harm in adding in real world issues to a family film. If we're being honest, how many people are going to buy a ticket to go see a documentary about climate change and how the world is dying? Pretty slim, right? But people will pay to go see a Disney movie, and therefore they are able to educate the audience on how we can make this world a better place.

I genuinely think this is a pretty fun and enjoyable little Disney film. Is it great and will be hailed as a classic Disney film for years to come? No, it's pretty doubtful, but for what it is, I enjoyed it quite a bit. I applaud the filmmakers and Disney for taking a chance on a film like this, and I think this is a good little project for the studio. However, I can't wait to see what giant Disney animated project they are cooking up next, and hoping this is just a little tease of the beautiful animation and wonderful story for their next projects.