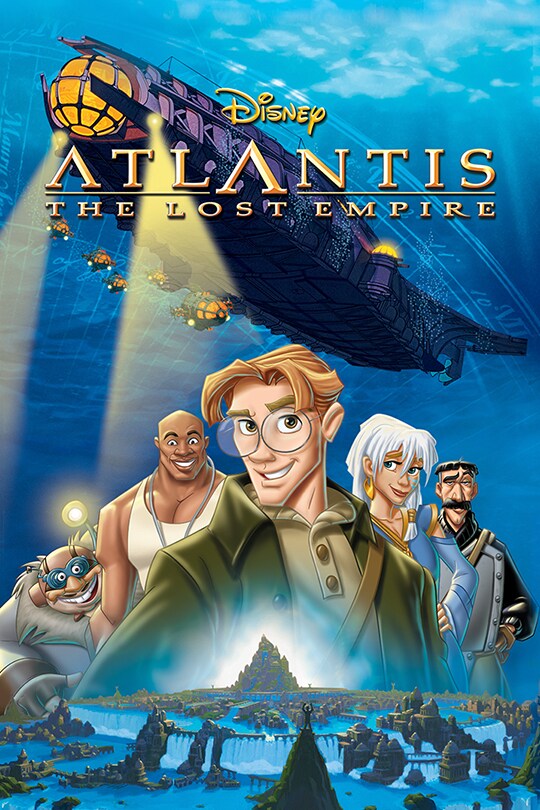 "Atlantis: The Lost Empire" Film Review
Rating: 3/5
By: Nathaniel Simpson
"Atlantis: The Lost Empire" feels like one of the forgotten Disney movies, similar to the likes of "The Black Cauldron" and "Treasure Planet". These more adult Disney films just don't seem to resonate with a lot of fans due to their more mature nature and less kid-friendly atmosphere. I don't necessarily think that's a bad thing, but it's definitely a risk Walt Disney Animation Studios takes since they are considered a more kid-friendly studio, releasing classic films about princesses and magical lands out of storybooks. This may not be as good as many of the other films Disney releases, but "Atlantis" still has something special about it that makes it an engaging and fun film at times.

The movie follows Milo James Thatch (Michael J. Fox), who is a young man who wants to follow in his grandfather's footsteps of being an explorer. His grandfather's life mission was to find the lost city of Atlantis, and Milo wants to fulfill his wish now that his grandfather has passed away. However, none of the major expedition companies in 1914 wants to fund his expedition, claiming that his mission is idiotic and there is no hard proof that Atlantis actually exists.
That is when he is approached by Preston B. Whitmore (John Mahoney), who claims he was a colleague of his grandfather and wants to help him find Atlantis. He backs a complete mission to Atlantis, and provides Milo a team of explorers. When they do find the lost city, they are enamored by how beautiful and vast it is, hoping to bring back some artifacts from there to prove Atlantis' existence. What Milo doesn't expect is to fall in love with the chief's daughter, Kida (Cree Summer). However, some of the members of the expedition team have other plans in mind, risking not only the lives of Milo and Kida, but the entire race of people in Atlantis as well.

Some movies do a very good job of making the journey to their desired place very interesting, leaving the viewer wanting to see more of the adventure rather than the destination. This is present in movies like "National Lampoon's Vacation", for example. However, I cannot say the same for this film. The journey to Atlantis, which lasted for about forty minutes I believed, dragged a whole lot. It felt incredibly boring at times, and it didn't seem like this movie had a clear direction they wanted to go towards. However, when our characters arrive in Atlantis, it seems like that is when this film really started to pick up steam.
It seems like the filmmakers put all of the story and the interesting elements of the movie in the final half, which I don't mind, but they should have made this part in Atlantis much longer than the journey there. In a way, it reminds me of Disney's earlier films like "Pocahontas" and "Tarzan" in the way that it focuses on a traveler trying to settle in a foreign land and meeting a native person that they fall in love with. Is it original? No, not really, but they are still able to make it very entertaining. I personally really liked how they combined a more magical and mythical element to this movie's plot, putting our characters more at danger than just an antagonist.

Even though the journey there might be really boring and uninteresting (to me at least), I think the characters were really well-developed and each was much different than the other characters they are paired with. We have Milo, who is the hero of this film, and he is combined with a muscular doctor (Phil Morris) and a creepy looking man who looks like a mole rat (Corey Burton). So, in the regards of character development, I think the filmmakers do really well.
Atlantis is beautifully animated and breathtaking to see on the screen. In the terms of animation, I think the artists do a fantastic job of creating these environments that literally pop off the screen. But, it seems very half-assed in a way, as the design of he characters is very crude and poorly designed, in my opinion. Take a look at their fingers when watching this film, they don't really even look like fingers. It's kind of hilarious as there characters seem totally and completely out of place in this beautifully designed world when their animation isn't the best; I truly think this is perhaps the worst-designed characters in the entire Disney canon.

While this movie clearly isn't the best Disney film, and is far from being in the top half of Disney's greatest movies, I still think this is a pretty decent outing for the Walt Disney Animation Studios, and I think it deserves a lot more credit than it is given. This movie is rarely ever talked about or promoted with merchandise by Disney, which really is a shame because this movie is special and magical in its own right. Even if this doesn't seem like your thing, I highly implore you to check out this movie for what it is as it may surprise you. It certainly surprised me.