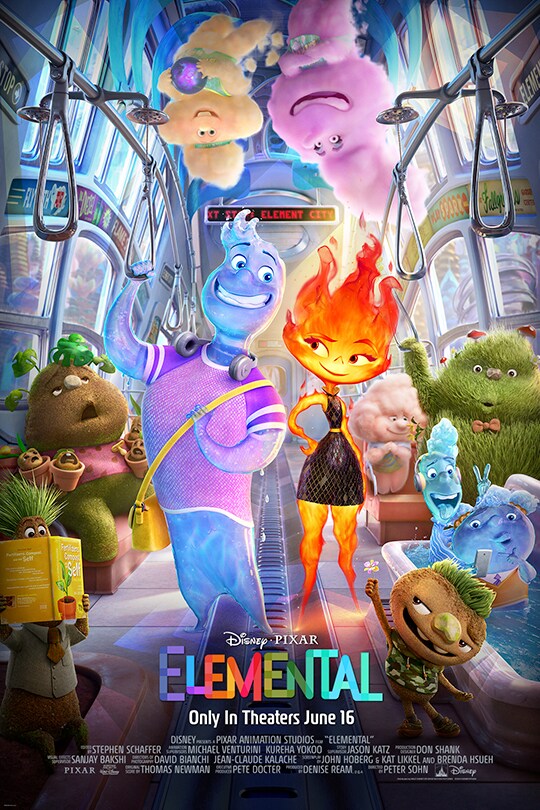 "Elemental" Film Review
Rating: 4.5/5
By: Nathaniel Simpson
For nearly thirty years now, Disney and Pixar have released films and shorts that focus on dreams and inspire their wide array of viewers, from the youngest of kids to the oldest of audiences. With films like "Up" and "Inside Out", Pixar is known for crafting the more emotional and thought provoking films compared to its parent company. The same can be said for their latest outing, Peter Sohn's "Elemental". This visually beautiful film is such a fun time, with fantastic characters and great voice acting.
The film opens on Bernie (Ronnie del Carmen) and Cinder Lumen (Shila Ommi) moving to Element City, where all the elements live together in somewhat peace and harmony. Hoping to start a new life for themselves and their child, Ember (Leah Lewis), they open a store suited just for the fire people, called "The Fireplace". Ember, who has an anger problem that causes her flames to spike and destroy anything in its path, hopes to take over the shop one day since her father is getting older.

However, when she accidentally blows up the pipes down below the shop, a water city inspector named Wade Ripple (Mamoudou Athie) seeps through, writing citations for numerous problems that the shop has. When Wade starts to fall for Ember, they now have to fix a hole in the dam to get rid of the citations, as promised by Wade's boss, Gale (Wendi McLendon-Covey).

This is around the first thirty minutes of the film, and to be honest, I wasn't sure if I was enjoying what was happening or knew where they were going. The beginning of this film seemed slow, yet too fast paced at the same time. There was nothing really exciting happening, but it kept moving too quickly that it was hard to appreciate any of the characters or events they find themselves in.
However, when we start to get into the real story this film is telling, the movie takes off in such a beautiful and hilarious way. Ember and Wade start to fall in love with each other, which they both knew was likely impossible as they would kill each other if they touched. They don't let that stop them though, and start to explore the city and life together, both realizing they don't want to live without each other. Yet, Ember's father doesn't know about this new romance, and he certainly won't approve of this unfamiliar relationship.

This is when Pixar shows what they do best - take two unlikely characters and pair them together in such a beautiful and magnificent way. What is unique about this film is that this is the first time Pixar has really done a straight romance film. Sure, there are tons of romance in Pixar, like Carl and Ellie in "Up" and Wall-E and Eve in "Wall-E", but we have never had a straight romance film from Pixar. Personally, I loved this new direction they went down, and I think they did a great job.

What is interesting and cool at the same time though is it's not a normal romance movie. Our two characters, separated by their different elements, is practically social commentary on the relationships between different races in society. In my life, I have a friend who is Indian, and he has told me that his family disapproves of their family dating anyone who is not Asian. That is what they are able to capture in this film. Ember's father is so disapproving of their relationship just because he's water and they're fire. It is reminiscent of films like "Guess Who is Coming to Dinner?" Sohn and his band of filmmakers and animators do a fantastic job of showcasing this in the plot, and providing an absolutely beautiful resolution at the end.
In terms of characters, Ember and Wade are fantastic. They are very unique and different, and just tons of fun. Ember is very strong-willed and headstrong, while Wade is more emotional and love-struck; they compliment each other perfectly. However, Athie and Lewis really make these characters great. They performed these characters to near-perfection, and I wouldn't want anyone else to play these great characters. I honestly think these might go down as Pixar fan-favorites in the next few years.
Even if you might not like the plot or the characters, there is one thing for sure that everyone can agree on- the animation is absolutely gorgeous. There were times throughout the film where I caught myself admiring the beautiful landscape and backgrounds our characters were in just because of how beautiful it all is. I've said this before in other reviews of Pixar movies, but I seriously think Pixar just gets better and better animation-wise with every movie they release.

I think this might be a very polarizing film for audiences, but for me personally, I really enjoyed it and had a great time with it. I absolutely loved the characters and the story, and Pixar really shows how they are one of the best animation studios in the world today. I have heard people not finding it emotional enough or predictable, which I can see. But, I think this movie is fantastic and I implore everyone to go check it out for themselves.