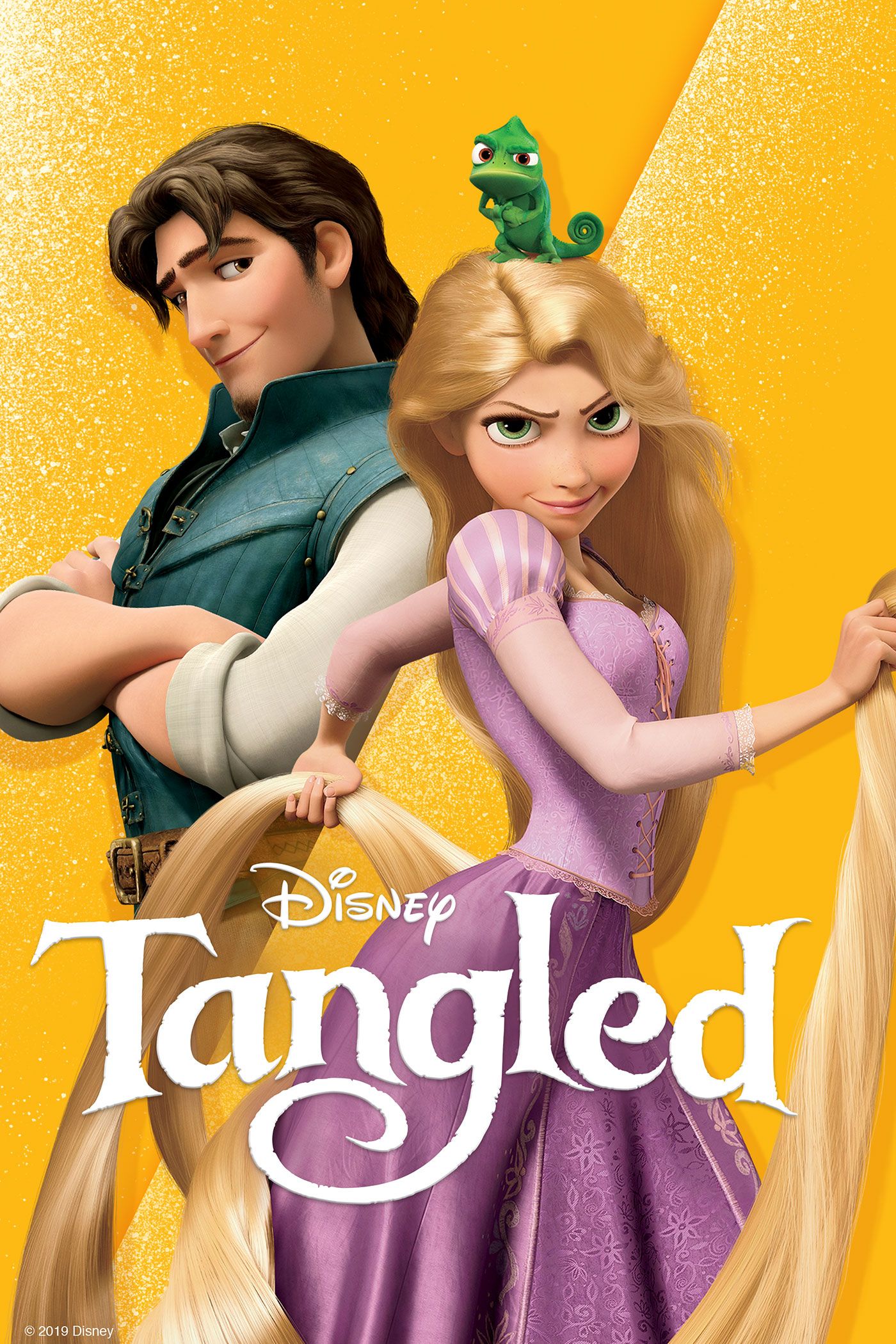 "Tangled" Film Review
Rating: 5/5
By: Nathaniel Simpson
Everyone has a dream in Disney's 2010 animated picture, "Tangled". Rapunzel, the main protagonist with the famously long hair, has the dream of going to see the floating lanterns that happen every year on her birthday. This sets up the main story for Nathan Greno and Byron Howard's incredible Princess comedy-adventure, which has great characters and fantastic use of humor.

Rapunzel (Mandy Moore) has been stuck in her tower for as long as she can remember. What she doesn't know is she was kidnapped as an infant by the cruel Mother Gothel (Donna Murphy), who abuses Rapunzel's powers to keep her young and youthful. She has never seen the outside world, and dreams of going to see what is out there, especially the floating lanterns that appear on her birthday night every year. However, Gothel won't let her out of her tower, in fear that she will find out who she really is in the kingdom.

When Flynn Rider (Zachary Levi) climbs up her tower one day while being chased by the kingdom's authorities (he is a known criminal who is constantly on the run from the law), Rapunzel sees this as the perfect opportunity to get him to take her to see the lanterns. What ensues is an action-packed, hilarious adventure between two unlikely characters who realize they have found their new dream in each other.

This film is fun and hilarious from start to finish. Rapunzel and Flynn are such great characters in the Disney canon, and they have excellent on-screen chemistry with one another. The way that Moore and Levi interact and bounce lines off one another makes it seem unscripted in the best way possible. From the start of the movie to the end, you get to see their progression as characters, which I think was done really well.

Rapunzel is probably one of the most courageous and fun princess heroines present in any Disney film. She uses her innocence to make friends with almost every walk of life present in the universe, but also doesn't let people take advantage of her or knock her down a peg. She is tons of fun and Moore really gives a great performance as the character. Flynn is also a wonderful character, going from a thief to being someone that is worthy of Rapunzel and her love. Levi is so much fun in the role, and in my personal opinion, he is one of my favorite characters in a Disney Princess movie.

The story is crafted very well, and I appreciate the fact they tried to make this an adventure film over anything. Sure, it deals with a Disney princess and her unorthodox prince featured here, but they break the mold of other Disney princess films that came before it. "Tangled" sort of has the same vibe as films like "Mulan", but contains more of that Disney Princess atmosphere than "Mulan" did. It sort of feels like a movie like "Cinderella" or "Sleeping Beauty" if it was a rom-com with a badass female protagonist.

Like I mentioned, the humor here is outstanding. The filmmakers and actors use a lot of dry humor to make the audience laugh, especially for characters like Flynn, who is perhaps the funniest character in the movie. The way Levi delivers his lines is what really stands out here; I don't think anyone could have played this character or delivered the lines as good as Levi did. He really understood the character and assignment here, and I think he excelled in every possible way.

At the same time, the film possesses a sort of maturity that can be found in many Pixar films. It is able to entertain audiences of all ages, but it has themes and qualities that adults can appreciate more than their young kids will. From breaking free of a toxic familial relationship to finding joy and pride in your own adventures to taking risks and never looking back, this is not simply an age-old princess story reimagined, but rather a re-telling of the story that can be related to modern issues that can easily stand the test of time for many years to come.

I feel like a broken record player by saying this in nearly every single one of my Disney reviews, but the animation on display is glorious. I have said it once, and I will say it many more times in my life, but Disney really is the leading animation studio when it comes to their art. It's wildly impressive, and everything is so crisp and sharp in every frame in the film. It's amazing how even though this movie came out nearly 13 years ago at the time of writing this review, it is still better than many films other animation studios have released today.

"Tangled" is not only a fun, action-adventure/rom-com, but a beautiful film that possesses the same qualities and beauty that was found in the princess movies Walt Disney oversaw. It's so much fun and full of heart, and for me personally, this is one of my favorite Princess movies Disney has released. I adore the relationship between Flynn and Rapunzel, as well as their own personal journeys and hardships, and I know different generations of audiences will as well.