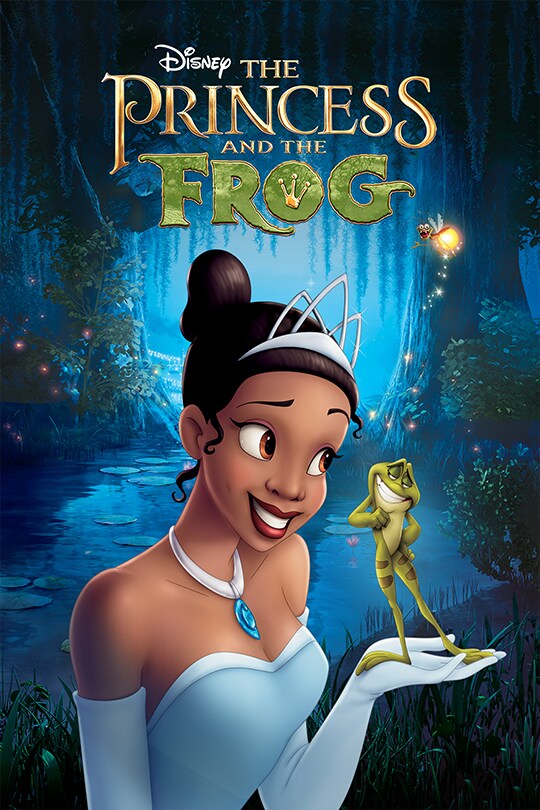 "The Princess and the Frog" Film Review
Rating: 4.5/5
By: Nathaniel Simpson
Walt Disney made history by releasing the very first feature-length animated feature, "Snow White and the Seven Dwarfs" back in 1937. Since then, Disney Studios have released over sixty films, ranging from Princesses to crime-fighting healthcare robots. However, when looking at 2009's "The Princess and the Frog", it is obvious Disney has not lost their way since their first film. The Ron Clements and John Muster directed film is absolutely beautiful, in terms of animation and story. This is a princess film Walt Disney would have easily been proud of if he was able to see it.

The film revolves around Tiana (Anika Noni Rose), Disney's first Black princess. She resides in New Orleans, where she works as a waitress, saving up to hopefully open her own restaurant one day. However, her life is flipped upside down when she meets a talking frog, who claims he is Prince Naveen of Maldonia (Bruno Campos). When he sees Tiana in a gown and tiara for a costume party at her friend Charlotte's house, he assumes that if she kisses him, he will go back to being his human self. When she does kiss the frog though, she herself turns into a frog as she is not a princess at the time.
Now both of them being frogs and getting lost in the Bayou, they must find a way to transform back into what they once were. With help from Louis the crocodile (Michael Leon-Wooley) and Ray the firefly (Jim Cummings), the two amphibians must journey to find Mama Odie (Jenifer Lewis), a witch-doctor that can break the spell. However, the voodoo man that turned Naveen into a frog, Dr. Facilier (Keith David) is on the hunt, willing to snuff them out if they get in his way.
The first thing I want to talk about concerning this film is the beautiful animation. They have gone back to the tried and true way of hand-drawn animation, leaving CGI out of the film and making a return to form for the company. Because of this, I think the film is so much better. If they had gone with CG, I don't think the rawness and awesome shots we received would have been achieved. There are definitely a bunch of new animated films that use CG for their animation that look really good (consider most of Disney's newest films), but there is something here that just makes the hand-drawn aspect of it work so well.
Tiana is such a great character. Disney has been criticized for having their characters act as damsels in distress, especially their princesses. Here, however, she is headstrong and very determined to achieve what she wants in life, and she doesn't want a man to help or stand in her way. She serves as a great role-model for children, and just shows how you can achieve anything you set your heart for, no matter your age or the color of your skin. While she is like this throughout the movie, the story also shows the change in her character, allowing her to have love in her life in the form of Prince Naveen. So, even though she is still this powerful feminine icon for children (and adults), they are still able to give her growth and character progression.
The same can be said for Naveen, who is an arrogant jerk when we first meet him, despite him losing all of his money before the events of this film. I think he perhaps has the best character arc, changing from a self-obsessed snob to someone who genuinely cares about other people. It's beautiful watching both of their changes played out on the screen, and Rose and Campos give great performances throughout the movie.
The standout characters here though are Louis and Ray, who are such lovable sidekicks. Louis is very easy to love and you want him to have a happy ending, and Ray just oozes charisma and charm, impossible to make you not like him. They are reminiscent of past Disney sidekick pairs, like Lumiere and Cogsworth from "Beauty and the Beast", and they're simply just a lot of fun.

I think in a way, this film didn't need that deep or threatening of a villain for it to work. But, like Disney always does, they make sure every aspect meets the audience's standards. Dr. Facilier is perhaps one of the best modern Disney villains, and it's easy to see why. He is so much fun to watch, and the animation definitely steps it up a notch. He is such a dark and vile person that he just simply works in the context of the story and the setting. David is fantastic when doing the vocal performance, and I simply adore this character.

However, there is one aspect of this film I didn't like as much - the inclusion of Lawrence, Naveen's hired hand, played by Peter Bartlett. They set him up as being scorned and hateful towards Naveen due to how the Prince treats him, but they decide to make it a whole plot line that takes up a considerable amount of the runtime. Years and years after this movie comes out, and no one mentions Lawrence much, even though he is in this film quite a bit. It is simply because this storyline feels out of place for the movie. The audience simply doesn't care about this character, and I think they could have easily shortened his involvement in the final product.
The setting really does work, with the inclusion of a fantastic score and original songs by Randy Newman. From the way the setting is animated with so much detail to the score really setting the time period and setting the movie takes place in, it effortlessly immerses the viewer into the movie, making them feel apart of the ride with Tiana and Naveen.

It is hard to not love this movie and everything encompassed in it. Tiana and Naveen are great additions to the Disney canon royalty, and the filmmakers definitely broke down barriers for Disney by making this movie. On paper, in terms of the setting and the plot, it seems like this movie wouldn't work as well as they would hope; but in reality, this is easily one of the best Disney films from the 2000's era, and it's clear to see when you watch it.