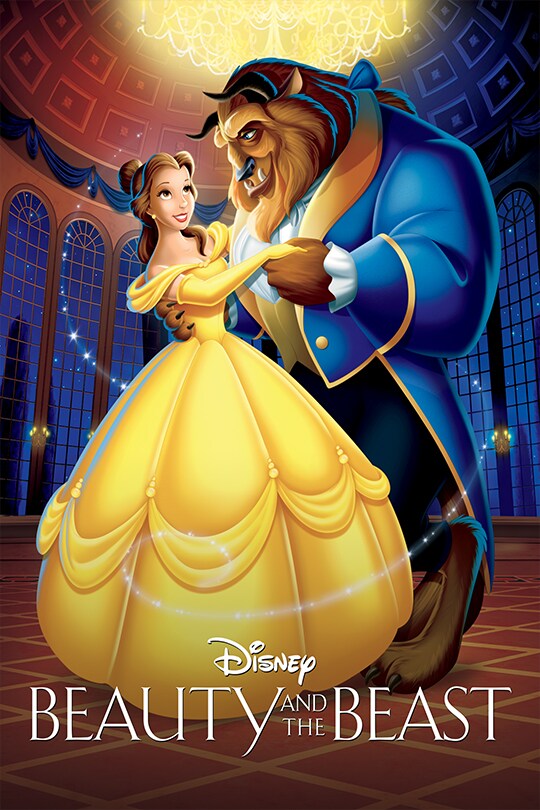 "Beauty and the Beast" (1991) Film Review
Rating: 5/5
By: Nathaniel Simpson
With this being the 100th anniversary of the Walt Disney Company, there are obviously huge celebrations all year round. Whether it's the decorations and events at the Disney parks or the major movie events that they have been having all over the world, the Disney 100 celebration won't stop anytime soon. One special event they have been doing all year so far is bringing back some of their classics to the big screen around the U.S., including films like "Pirates of the Caribbean: Curse of the Black Pearl" and "Frozen". I went and saw their beautiful 1991 classic, "Beauty and the Beast", on the first day and first showtime back in theaters, and to this day, this movie is an animated masterpiece. From the beautiful character design to the wonderful story and lovely songs, this movie easily warms the hearts of the viewer and makes them fall in love with the story of Belle and the Beast.
The film revolves around Belle (Paige O'Hara), a bookworm young lady who lives in a very dull town, as evident in her song in the first few minutes of this film. She wants to go out and explore the world, find something new out there. While she is stuck in this "poor provincial town", she helps her father Maurice (Rex Everhart), who is a scientist that wants to become world-renowned with his inventions. Then, there is the matter of Gaston (Richard White), the heartthrob of the town that has set his sights on Belle, despite him being a giant misogynistic jerk.

When Maurice travels to the fair to show off his new invention, he gets lost and seeks refuge in a near-by castle that has seemingly been abandoned for years now. He then encounters Lumière (Jerry Orbach) and Cogsworth (David Ogden Stiers), a talking candlestick and clock, respectively. They have resided in this castle as objects for around ten years, dutiful under their master, a young prince who was transformed into a hideous Beast (Robby Benson). Including Mrs. Potts (Angela Lansbury) and her son Chip (Bradley Pierce), they all wonder if they will ever become human again.

When the Beast keeps Maurice as his prisoner, it prompts Belle to leave the town and look for her father, whom she finds in the dungeon of the Beast's castle. She decides to trade her life for his, remaining the Beast's prisoner for the rest of her life. While it looks grim at first, they start to change and find the good in each other, which means Belle might be the one to break the spell that everyone in the castle is under.

On a story level, this film is so beautiful and enchanting. The story really makes the viewer fall in love with the characters and what is happening, with fantastic character development and enchanting songs. Belle is a wonderful protagonist, and sort of ushers in this new revolution of badass female heroines in Disney's animated features. At the same time, the Beast is a very flawed character, but you can see that there is good deep within him from the start. You can see that he is angry at his circumstances, but wants to be a better person. Together, they have great chemistry and the animation does them justice. Consider the scene where Beast is going to surprise Belle with his humongous library. The animators really capture the pure, innocent joy on his face perfectly.

The same can be said for the side characters, who easily steal the show in many scenes. Cogsworth, Lumière, and Mrs. Potts are fantastic sidekicks, and are possibly some of the most lovable in the Disney canon. They all are great together, and can each stand out separately. At the same time, in terms of the antagonists present, Gaston and his sidekick LeFou (Jesse Corti) are a lot of fun and can garner many laughs whenever they are on the screen. All of the voice talent does a near-perfect job here, both in terms of dialogue and their musical performances.

The animation is exactly what you would expect from a Disney film. It is glorious and absolutely beautiful, with shots that could easily rival those found in their 1959 film "Sleeping Beauty". What they do the best though, in my opinion, is make the viewer feel like they aren't watching an animated film. The viewer gets so invested in the story and the beautiful nature of the animation that it feels like we are drawn into this small town in Paris, and not concerned or thinking about how this is animated. Disney really has a knack for doing that, and I think it is a surprise to no one that Disney is easily the best animation studio still working today.

"Beauty and the Beast" is a masterpiece and a classic, one that can still stand the test of time today. Seeing it on the big screen was a wonderful experience, and it never failed to garner chills and goosebumps no matter how many times I have seen this movie. Disney has hit the milestone of 100 years, and this is a brief example as to why they have been so successful. Even though there are over 60 movies in their canon, each film has its own beautiful set of characters and story that just works so well together. This movie is easily no exception.